President, Founder and Volunteer Executive Director for the Wild For Life Foundation (WFLF):
Katia Louise volunteers her time, resources, talents and services to carry out Wild For Life Foundation's important mission. Katia is the screenwriter, director and producer of "Saving America's Horses: A Nation Betrayed", an educational documentary feature film which has won multiple international awards including Best Documentary Film in Los Angeles and Best Environmental Film in Canada, and was released to theaters bi-coastally with qualification for the Academy Awards. Katia is also the founder of the Saving America's Horses Initiative, an international consortium of equine veterinarians, equestrian professionals, equine welfare experts, researchers, horse advocates, scientists, film and television artists, and concerned citizens working in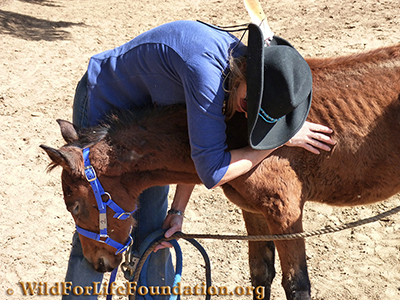 concert to promote wild horse preservation initiatives with a focus on the prevention of equine cruelty and ending the slaughter of America's horses. Ms Louise is the recipient of multiple international awards recognizing her work in Academic Research and Advocacy for the Protection of Animals from Cruelty, Conservation, Animal Rescue, and Wildlife Protection. The results of Katia's investigations and academic research, as well as her white papers, articles, documentaries and publications have been featured in international news publications and syndicated news and have raised the bar for animal protection in the U.S. and elevated awareness and compassion globally. Katia has dedicated her life to this mission and continues her life work on a voluntery basis in animal rescue, academic research, humane education and cruelty investigations for WFLF.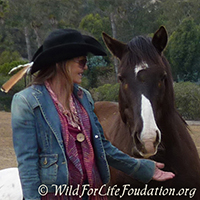 In 2008 Katia founded the Wild for Life Foundation, not only to provide a humane educational program but to provide food, care and shelter for homeless animals. Katia oftentimes works undercover investigating animal cruelty, and to bring justice and exposure to the issues of animal cruelty, with a focus in the U.S. and in California's as related to equine cruelty, neglect, and the illegal underground slaughter pipeline. During several of Katia's investigations during the making of her film, Saving America's Horses, she encountered a number of helpless horses trapped in the seedy underground pipeline and on the verge of shipping to slaughter. It was Katia who then said, "Not on my watch!" and she saved them. And that's how WFLF's equine rescue program was born. Many of the costs for the animals rescued during the early years of WFLF's equine rescue program were footed by Ms. Louise. Donations and grants supporting WFLF's rescue and sanctuary program have grown over the years, enabling WFLF to increase the number of lives saved from a handful each year to hundreds.
WFLF is the outcome of Katia's passionate altruism and decision to pursue her lifelong philanthropic passion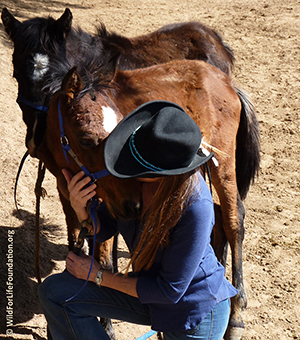 for animal rescue and rehabilitation, and her commitment not to turn a blind eye to animals in need. Katia is a highly regarded champion for the health and welfare of animals, an inspirational speaker on the topic of animal welfare and equine issue. She has authored many published investigative studies and reports on equine welfare issues. Katia's vision and primary objectives for WFLF's animal protection program include establishing a large multi-acre charitable sanctuary and wellness center to serve beneficiary animals in perpetuity. Under Katia's leadership and with the ever growing and devoted support of WFLF's caring constituents, the Foundation has gone on to save hundreds of horses and burros, and other animals from cruelty and life threatening danger. Through dedicated and tireless hard work, excellence in professional leadership and with the assistance and support of many compassionate and generous individuals, the accomplishments of the Wild For Life Foundation and the success of its mission have been unsurpassed.